Documentation
My bookings
The page My bookings displays all bookings for the current user account, including date, time and square information. The bookings are sorted in chronological order.
If available, booking costs are displayed as well and can be clicked on to see them in more detail.
This page does also list bookings created by the administration.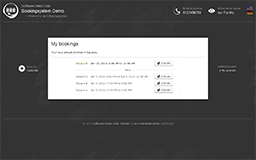 Created by: Tobias Krebs
Updated: June 2014