Documentation
Info and help page
These two configuration pages provide each a visual editor to create and edit the info and help pages.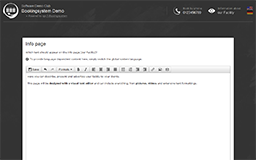 You can upload and insert images, videos and documents to your text with the integrated file manager.
Multilingualism
The inputs of this page apply to the currently selected language.
To provide different inputs for different languages, save the form, switch the language and insert localized values.
Created by: Tobias Krebs
Updated: June 2014